22 Jan

THE K-SHOW
THE K-SHOW 2019
Düsseldorf – October 16-23
That's a wrap! Another exciting K-Show has come to an end.
This has been a memorable edition, as we recorded the largest number of our products on lines displayed in DOTECO history at K-Show.
We have introduced two new adds to our products and accessories range: DOTECO's Automatic Cleaning System  and GRAVIFEED (for more info CLICK HERE).
We would like to thank all the visitors for showing interest in our products, our OEM partners for the constant support and more in general to everyone that passed by to celebrate with us DOTECO's 25th Anniversary.
A special mention to the DOTECO's team which worked relentlessly to ensure a great show.
See you in 2022!
Another K is gone; it has been an intensive, full and satisfactory exhibition. During the K-Show we have officially presented our new BLENDO, the "ADROIT" generation, successfully welcomed by the OEM's on their running lines. It has been also a good occasion to meet potential customers and to shake hands with those already known. Also the batch blender GRADO ADROIT, presented at the K-Show 2013, has been a leading actor on many running lines at the show and in the open-house of our loyal OEM's customer.
We'd like to thank all the visitors that have expressed their interest to our products or simply stopped by our booth to meet us for a nice talk in front of a glass of wine and some parmesan cheese.

K-2013 has been quite successful.
We would like to thank all people visiting us and keeping us do pleasantly busy as never been before.
Doteco systems have been also running on nine extrusion lines, of major OEM's at hall 14, 15, 16 and 17.
Our systems have been running at the following booths: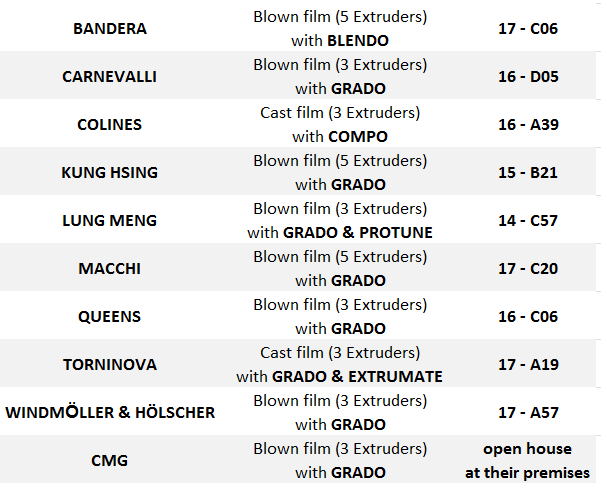 Doteco Booth, hall 10 – J73