02 Nov

7 Reasons why you should choose GRADO ADROIT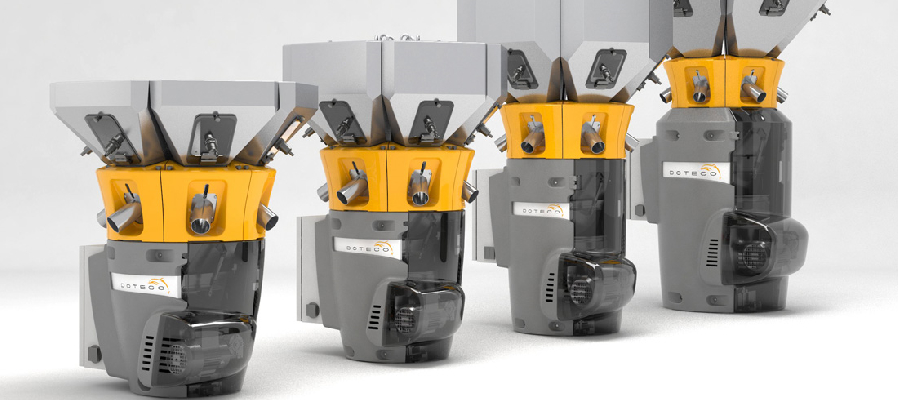 Why Doteco's Gravimetric Batch Blenders are the state of the art among dosing systems and they became the go to choice by World's top extrusion line makers?
In this article we are going to describe what's behind Doteco's success and why each year more than 300 customers worldwide choose to install GRADO ADROIT units on their lines.
GRADO ADROIT represents the third generation of Doteco's gravimetric batch blenders.
Thanks to more than 25 years of experience in manufacturing automatic dosing systems and more than 15.000 units sold Worldwide, we can provide customers with a highly reliable, field tested quality product.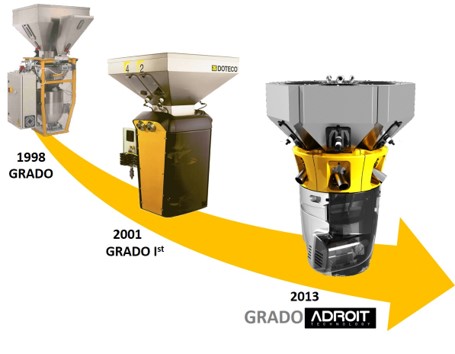 2. Attention to detail
Doteco's R&D team focused their efforts on designing each GRADO ADROIT's component with attention to the smallest detail, in order to achieve two key targets: to make a long lasting and easy to maintain blender.
A product with a long life cycle and extremely reduced maintenance needs, increases significantly the return on the investment.
Furthermore, compared to the previous series, GRADO ADROIT has been re-designed to be one of the most compact blenders on the market, allowing customers to optimize the space without experiencing retrofitting issues.
3. Only what you need
GRADO ADROIT is fully modular, which means that the number of ingredients can be increased in any moment (from a minimum of 2 to a maximum of 6) by adding additional dosing stations. The high degree of flexibility allows the blenders to perfectly adapt to the customer manufacturing needs even if these change over time.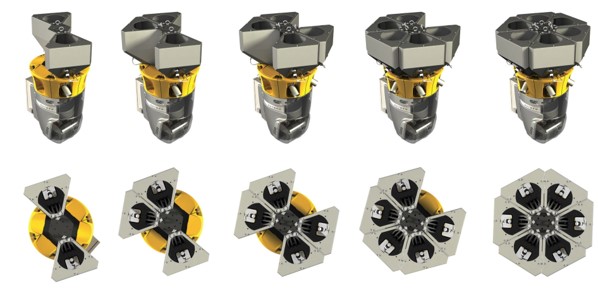 Do it yourself
DOTECO provides a complete "DIY" kit for a quick expansion of the dosing stations. Purchase only what's needed, expand it later without additional installation fees.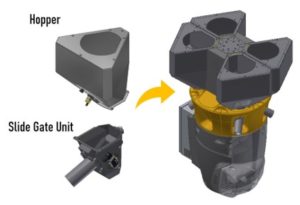 4. Time is money
Every time the line is not producing, it results in a profit loss. With GRADO ADROIT, we wanted to provide customers with a product where the cleaning operations, during order changes, is quick and the risk of contamination from past productions is low.
Components such as: inspection windows on the dosing stations hoppers, removable slide gates, spouts for quick material drainage, removable covers and tapered spherical mixer are specifically designed to facilitate cleaning and reduce the residual material between production changes.
5. Accuracy & Precision
GRADO ADROIT implements load sensing cells with high resolution electronics (24 bit – 0,004 gr), gel shock absorbers on the batch scale to minimize vibrations and a timed mixer placed on top of a load sensing cell.
The sliding gates are made of a low inertia techno polymer, allowing the open/close transition much quicker compared to other systems.
Thanks to all these features the dosing process is extremely accurate, precise and fast, while the blending is homogeneous.
There are many advantages resulting from utilizing GRADO ADROIT: increased output quality and productivity, reduced scrap, less environmental impact.
6. The interface
GRADO ADROIT utilizes the latest Doteco's user interface, WBox.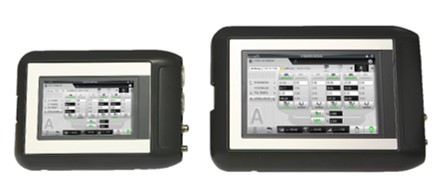 WBox is graphically intuitive, yet very powerful:
 Developed in HTML 5.0 to navigate with ease among the configuration options.
Touch screen.
Solid state memory: very reliable, high storage capacity.
A wide range of visual alarms, to ensure a quick action.
Different control options: parametrization, dosing, extrusion and advanced statistics.
Smart loading system (optional): while the recipe is loaded, the system calculates how much material is needed to complete the production, drastically reducing waste.
Panel Mount (7, 10, 15 or 21″)  or handheld device (7 or 10″) available.
Remote technical assistance as a standard feature: a fast response from technical support, means less downtimes.
Combined with X-20 CPU offers quick processing speed.
7. Smart conveying
Thanks to Doteco's centralized vacuum conveying system, it is possible to operate up to 8 pumps and 64 receivers simultaneously, all controlled by the same blender's interface.
By analyzing the ingredients percentages, the system is able to prioritize the conveying of main ingredients.
SMARTCONVEY is perfectly integrated with blenders control logics, loading parameters management and system alarms.
NOT JUST BLENDERS
Technical support and customer service may not be strictly related to products, however because of the their fundamental role during the entire blender's lifespan, they deserve a special mention.
A responsive and reliable service is a key factor to ensure the blenders productivity and efficiency over time.
Doteco's Service Department is a well structured group composed by a dedicated Help Desk team, field service engineers and a global network of Customer Service centers. All striving to provide fast and reliable solutions, whether it is commissioning, maintenance or just spare parts.
The contents on the website www.doteco.com of which Doteco S.p.A. is the author they cannot be copied because they belong to the author himself. Copying and reproduction of the contents in any way or form is prohibited. The sharing and redistribution of content is permitted as long as the source is cited and the link to the page from which they were taken is reported. Copyright © 2020 Doteco S.p.A. All rights reserved